Marcus Mojo fucks Oliver Saint
In this latest Marcus Mojo fucks Oliver Saint , Marcus goes a little old school and plays a little with his friend. They took their time to make one another feel good, kissing long, feeling their tongues against one another, while their hands were busy with their dicks, making them get harder. In the end they hand fucked one another, just the way we like it at marcusmojo videos. They loved to feel their cum touching their hands, feeling the orgasm as they  both reached at the same time. Well Marcus here waited a long time to be able to get it on with Oliver and today was his lucky day as he got him all to himself.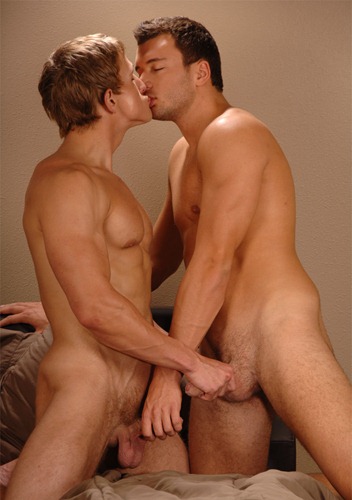 You simply can't miss this hot and free rough sex video when you get to see the beautiful chemistry that these two studs have together. Oliver is a man slut and always likes to be the submissive one taking the ass fucking. But Marcus wasn't about to let him just have that. You get to see Marcus treat his new friend to a special treatment before hand as he sucks and slurps on that big and rock hard cock of his with a passion. Only then does Marcus have Oliver spread open his legs and inserts his cock inside that fine and horny ass today. Watch them cum at the same time as we said, and enjoy this hot gallery everyone!